How AI Affects Local Search for Self Storage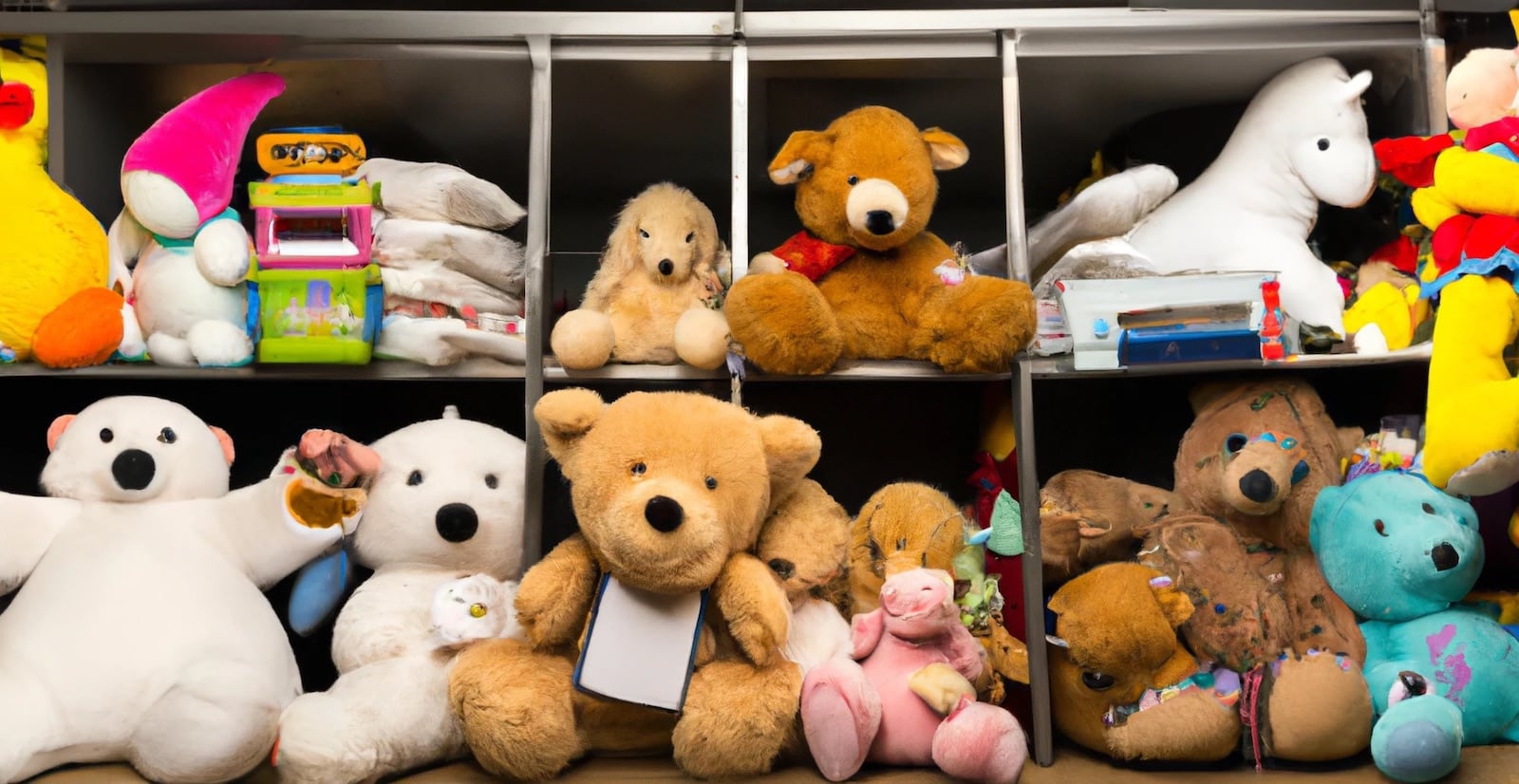 AI is everywhere!  By this point, no doubt, you've tinkered with ChatGPT or perhaps created a fun image in DALL-e (like those stuffed animals above) or at the very least read an article about how AI (aka artificial intelligence) changes everything.  While the immediate impact of AI may be somewhat overblown, there are some signs that it is going to change organic search significantly, which may have a profound affect on self storage facilities and how they attract new customers.
Google Labs has worked up a test product called SGE (Search Generative Experience). SGE, according to Google, provides "AI-powered overviews with helpful info and ask follow ups."
Searcher beware, using SGE comes with a big caveat: hallucinations!  Similar to other AI experiences, SGE might occasionally misrepresent facts or inaccurately identify insights. This can occur due to the complexity of language understanding and the potential for large language models to generate information that may not be entirely accurate. 
So how much does this affect your average mom-and-pop self-storage facility?  It turns out, it might be a lot.
I first conducted a basic "storage unit near me" search (here in northern California).  The "Generative AI" results are pretty straightforward in terms of both listings and layout.  Some brief notes on what we see below:
A basic summary sentence that shows understanding of the query
An expanded "Local Pack" of results, including facilities, star ratings and address
In the right column, small cards that mimic more standard organic search results
A map reflecting the left column listings
An "experience" sentence that appears to capture sentiment and features.  Oddly, Extra Space Storage doesn't make it into the Local Pack, and yet they get this "experience" mention.
A prompt to "Ask a followup" and some Related Searches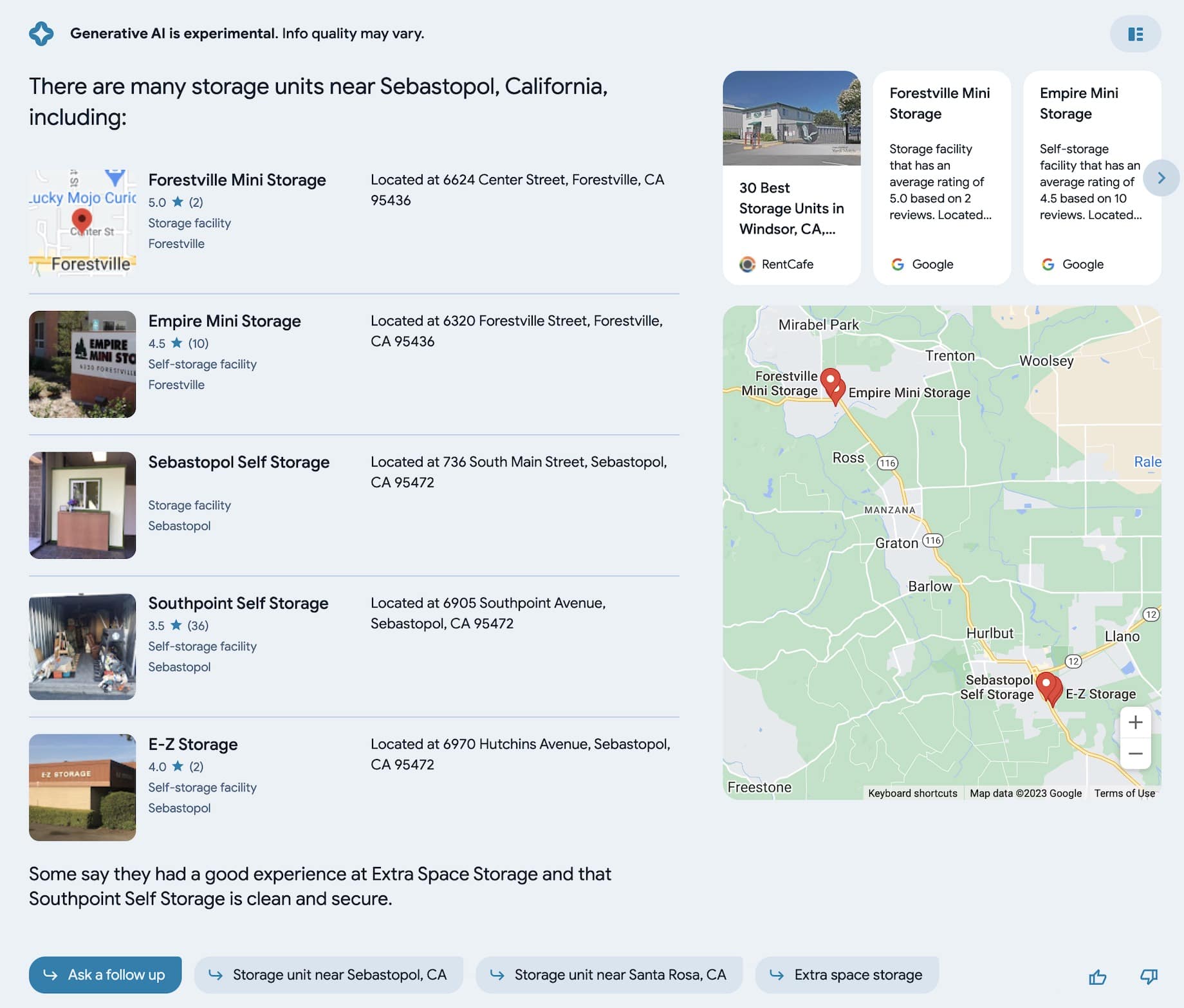 I was then able to build on the initial search, first asking about availability of climate controlled units, and then a sort on best price.  Results were basically as expected.
So where do things get a little dicey?  And why should our storage owner/operator care?
Well, in those cards in the upper-right, I clicked on a listing for Sebastopol Self Storage and got the following Generative AI result, with some huge issues for this facility:
No mention of our target facility at all!
Seven competitors listed!
How screwed is this facility in this case?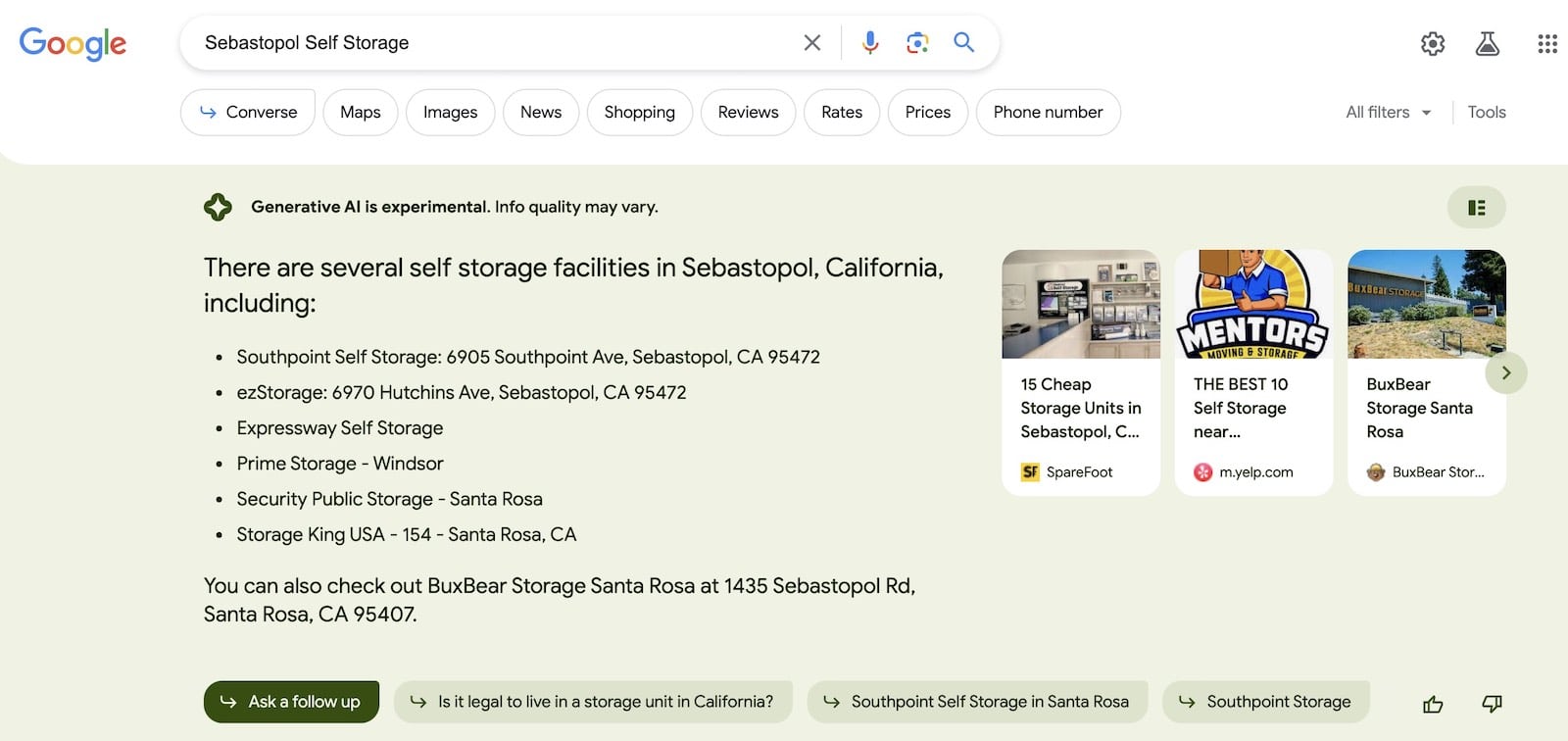 One big takeaway here is that Sebastopol Self Storage does not have managed Local SEO services, nor do they have any Reviews.
SGE (Search Generative Experience) probably has some ways to go before it goes live outside of Google Labs.  That said, in search results like Generative AI, I'd wager that Google is very likely to reward local businesses that are focused on a few key things:
consistent business data, including a website, Google Business Profile and any other directories and listing websites
building a brand, inclusive of reputation and authority
getting 5-star Reviews and replying to those Reviews
If you, dear storage facility owner/operator, are not actively managing your Local SEO presence and getting great Reviews, you might find yourself very frustrated with search results as Google rolls out new form factors and algorithm updates as we see above.
Feel free to get in touch with us here at The Storage Agency.  We'll help you navigate online marketing and search with high-touch professionalism and a smile. Let's fill those units!